ABOUT US
Welcome to the home page of the Herefordshire Health and Safety Group (HHSG). The Group was formed in 1968 with the purpose of providing free advice, information and support to companies and individuals who have an interest in health, safety and environmental issues, something which is still at the heart of everything we do today.
Our seminars, which we organise for our members, cover a wide range of subjects reflecting current health, safety and environmental issues. As a Group we promote networking so that our members can share best practice for common problems.
Five reasons to join HHSG:
·         Low membership fee – £40 per annum
·         At least 8 seminars per year – all free to members
·         Local networking opportunities
·         Free advice and support where possible to both newly appointed and established H,S & E advisors
·         Visits and advice available for charities and the voluntary sector
If you are not a member but would like to know more contact our secretary at info@herefordhsg.co.uk and join one of our seminars but better still fill out an application form (link on top of the page) to become a member today – it's money well spent!!
We look forward to seeing you soon.
NEWS
WE'VE DONE IT YET AGAIN!!!
The Excellence Award judging panel of Safety Groups UK have concluded their judging for 2021 and have awarded Herefordshire Health and Safety Group the highest achievement – a SGUK Excellence Gold Award.
They commented as follows:
'The Excellence Award judging panel have concluded their judging and it is my pleasure to inform you that Herefordshire Health and Safety Group has been awarded the highest achievement of a SGUK Excellence Gold Award.
The judges were very impressed with the calibre of entries and your submission stood out as one of the very best. The work that your Safety Group is doing is excellent and we are delighted to be able to have the opportunity to recognise your achievement.  I would like to pass on my congratulations to you and your colleagues, this is an outstanding achievement of which you should be very proud.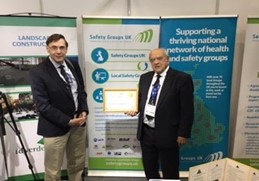 Phil and Mike accepting the award at the ceremony in Manchester
We lost out for the overall award to Northern Ireland Health & Safety Group but are one of only four Groups to get Gold – and this is the SIXTH year running that we have won this award which we feel is a terrific achievement!!
COVID 19 Guidance.
Everywhere you look there is advice about Covid 19. We have put together a list of links to web sites which we think offer the best guidance click here for details
The attached file gives details of the web sites mentioned.
EVENTS