---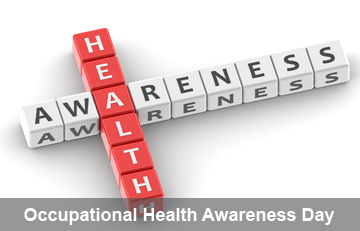 Occupational Health Awareness Day
All day event to include exhibition stalls
Investing in employee health is vital. Firstly, hazards in the workplace that can damage health – like chemicals, dust fume, noise and vibration or just bad posture – need to be properly controlled. Some workers who do safety critical work may need health screening. People with special health needs, for example, following return to work after injury or illness, need help and support.
The workplace is also a great place to help people improve their lifestyles, for example, by providing advice and information on issues like diet and exercise, alcohol and substance misuse, smoking cessation and early access to health screening.
Seminar Details
To highlight health risks at work and to show how employers can not only stay within the current legislation but also invest sensibly in improving employee health, HHSG, supported by Herefordshire Council and the Herefordshire and Worcestershire Chamber of Commerce, is organising an all day event in Hereford Town Hall on 15th October between 09:00 – 16:00. Members and others who are interested, may attend throughout the day and listen to speakers, take part in topic table discussions and view exhibits designed to help them make better occupational health choices in the workplace..
Confirmed speakers and facilitators:
08:30 – 09:00 – Registration
09:00 – 09:10 – Welcome and Introduction by HHSG President Roger Bibbings MBE, and Herefordshire Council Director of Economy Geoff Hughes
09:10 – 09:40 – "Jobs fit for people, people fit for jobs" – Overview of current health challenges at work.Dr Steven Boorman CBE,(Chief Medical Officer Optima Health)
09:40 – 10:10 – "Health risks at work, do you know yours?" – Introduction to a new awareness raising package. Dr Bob Rajan-Sithamparanadarajah OBE (HSE and Safety Groups UK)
10:10 – 10:40 – "Health of the construction sector'". Latest update from the Constructing Better Health, Michelle Aldous (Constructing Better Health)
10:40 – 11:00 – Coffee break
11:00 – 12:00 – Facilitated topic tables
Asbestos management – Jamie Perkins-Best, Hereford Asbestos Services
Noise and vibration – Kelvin Williams, British Occupational Hygiene Society (BOHS)
Stress prevention and management – Dr Arif Mahmood, Consultant Herefordshire Council Public Health
Skin protection – Paul Vowles, Deb
Musculo-skeletal disorders – Clyde Crawford, Ergability, Karen Henley, Institute Human Factors, Dr Rob Harrison, Total Back Care
Occupational cancer – Jill Joyce and Jasmeen Daji, Institute of Occupational Safety and Health (IOSH)
Routine health surveillance – Dr Bob Rajan-Sithamparanadarajah OBE, Health and Safety Executive
Respiratory protective equipment – Frank Angear, British Safety Industry Federation
12:00 – 13:00 – Buffet lunch
Blood pressure tests
Walking with pedometers
Weight checks
Smoking cessation advice
Delegates network and visit stands
13:00 – 13:25 – "Herefordshire Council Employees Health and Wellbeing Survey Results and Health and Wellbeing Strategy" – Dr Arif Mahmood and Jo Robins
13:25 – 14:00 – "Managing sickness absence" – Julie Davies, Occupational Health Manager County Hospital
1400 – 14:25 – "Developing wellness via the workplace" – Elizabeth Preece, The Healthy Worker
14:25 – 15:25 – Facilitated topic tables (delegates circulating)
Stress prevention and management – Herefordshire Council Consultant Dr Arif Mahmood and Vikki Holloway, Vikki Holloway Ltd.
Health promotion at work – Herefordshire Council – Jo Robins, Herefordshire Council Consultant
Developing wellness via the Workplace – Elizabeth Preece, The Healthy Worker
Managing absence – Jean Fisher, The Occupational Health Business Ltd
Getting OH advice – Commercial Occupational Health Providers' Association or Association of Occupational Health Nurse Practitioners – speaker TBA
Drug and alcohol testing – Fiona Hughes, Environmental Scientifics Group Ltd (ESG)
Making the business case for OH – TJ Postles, Herefordshire Council HR Lead
15:25 – 15:50 – Plenary discussion
15:50 – 16:00 – Closing remarks from the chair
16:00 Event closure
More speakers and facilitators are accepting or requesting attendance, please keep checking back for more details.A list of pop up exhibits and those wishing to highlight their occupational health services in Herefordshire and surrounding areas is currently being formulated and this page will be updated accordingly once agreed by the HHSG Committee.
---
Entrance fees:
Free to all current on the day paid up members of the Herefordshire Health and Safety Group (HHSG).Non HHSG members – £10 per person payable on entrance
Conditions:
HHSG members – currently no limit on delegates from that individual or organisation in place. However if planning on sending larger numbers of delegates than 3 please email for confirmation.Non HHSG members may chose to join on the day by way of completing an application form and payment of £30 (subscription rate between April 2015 – March 2016) upon entrance. This will give free entrance to this days event and further events in the 2015 – 2016 programme.Payment to be made via cash or cheques only, unfortunately cards cannot be accepted.
---
To reserve seating, request further information or to take part in this event please click the following email link: HHSG InformationIt is respectfully requested that notification is given of attendance to ensure that both seating and catering facilities are sufficient on the day.